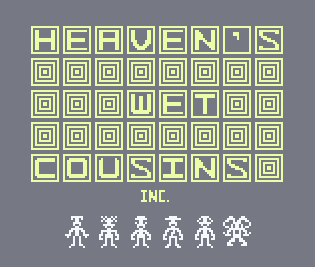 Heaven's Wet Cousins INC.
HEAVEN'S WET COUSINS are Upper Eden's #1 boy band and you are their new manager. Meet Jonathan, Mark, Alex, Troy, and Chalino at their HQ and leave for another astral plane before the lights come on.
Based upon a really crappy zine of the same name I made last year about a fictional boy band. Garbage submission for the delicious GAMES MADE QUICK??? FOUR+ hosted by eevee .
Thanks to Adam for Bitsy, Fred for the Bitsy HD hack/tool, Mark for the Audio to Bitsy tool (because i was workin' QUICK!!!!)